How did I get to this state? No, no, I don't mean to Massachusetts (although on a cold day in February, an Arizona girl does sometimes
wonder...), but how did I ever become
so
obsessed with tablecloths, silver, centerpieces, and um, place card holders?
Place card holders! We are hosting my husband's family this Christmas in our still completely guest-inappropriate
Money Pit
. Unbeknownst to them, they will have place card holders. I'm not so much concerned that, left unguided, our eleven guests will find themselves wandering around aimlessly, searching for seats musical-chairs-style. And maybe two weeks ago, I would have scoffed at the utter ridiculousness of the absurd hostess who thought that place cards would be a necessary element in her half-finished, under construction house (keep in mind that we have electricians coming on the 23rd to replace our current dining room light fixture, a
huge
white and shiny brass ceiling fan with three bulbs in it, with something more elegant). But that was two weeks ago. That was before I laid eyes on
these
fine place card holders (and realized that
Paper Source
sells ready made cardstock place cards in every color imaginable).
My twelve tiny reindeer (take that, Santa, what with your mere eight...)
Sometimes while I'm in line waiting to pay for various irresistible tchotchkes, widely-accepted design slogans such as, "less is more" and "keep it simple, stupid" come to mind. But then I quickly dismiss them. Because, as I'm sure any shrink or yoga teacher worth his/her salt could tell you, it can't be good for the self esteem to repeat mantras ending with "stupid." So anyway, I am now the proud owner of 12 darling holiday place card holders--silverplated carved reindeer resting atop inlaid rosewood bases--that I found on
One Kings Lane
last week (if you're not already intimately acquainted with this address, run don't walk to their fabulous website for serious discounts on all manner of housewares; their Tastemaker Tag Sales offer regular people the chance to score major deals on famous designers' well-curated collections of furnishings and accessories).
 It has not escaped my attention that tablescaping---I'm told by my similarly obsessed coworker/enabler that "tablescape" is the lingo to use here--is not necessarily a popular hobby. I am also aware that some of my nearest and dearest believe that an intervention may be in order. That's fine, but would you kindly hold off intervening until I've had a chance to order
these wonderful butter knife rests
?
Crystal Knife Rests, $30/6
I say, if you can't beat 'em, join 'em. So today it's Holiday Tablescapes Galore... Enjoy!
Unbelievably stunning!
Image from Carolyne Roehm.
Another lovely holiday table by Roehm. She often squares four candlesticks around a centerpiece.
Image from Carolyne Roehm.
Loving the blue, white, and fir!
Image from Country Living.




One of my favorite tables.
Image from Carolyne Roehm.

More plaid (and see, they have knife rests).
Image from iVillage Garden Web
Pretty sure this is my favorite. I am so partial to black, white, and gold.
Image from Carolyne Roehm.

Could this room be any prettier?
Though I don't know if I'd feel comfortable drinking my red wine at that table.
Image from Shelter.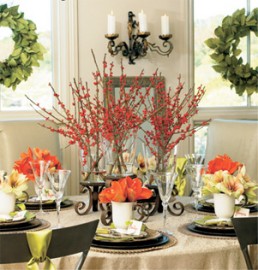 Casual and warm.
Image from Digs Digs.
I wish some of these homeowners would adopt me. So, so charming.
Image from The City Sage.
Love this whimsical winter wonderland!
Image from Rebecca Thuss.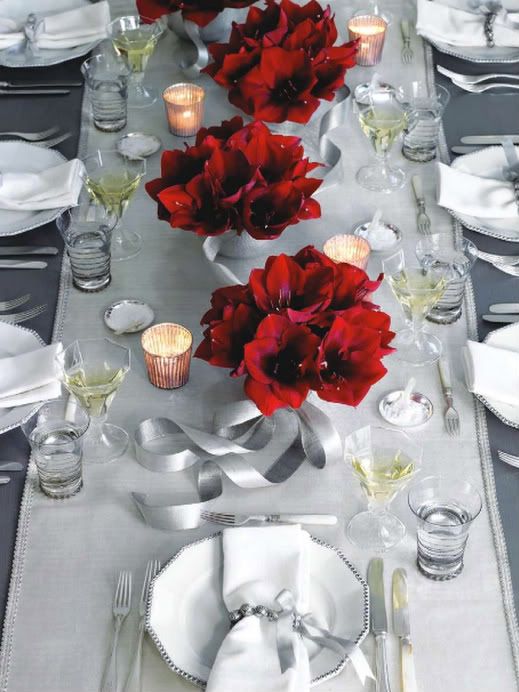 Festive florals/dirty martinis at every place, now this is the Holidays done right!
Image from Oscar de la Renta
My takeaway from this tablescape--mismatched chairs are boho chic, not embarrassing...
Image from Better Homes and Gardens.



So fun...and I even own those Kate Spade peacock plates!
Image from Better Homes and Gardens.
Image from Carolyne Roehm. Who else?
Simple and stunning.
Image from Martha Stewart
Who says Tiffany Blue is not a Holiday color?
Certainly not me or that girl from the "Santa Baby" song!
Image from Southern Living.
Again, if it could be on a "Mad Men" set, I love it!
Image from Martha Stewart


Carolyne, would you please come design the home G.P. Schafer restores for me?
Image from Carolyne Roehm.
The navy mohair with white winter branches is so elegant.
Image from Better Homes & Gardens